Mothers® Tire & Wheel Care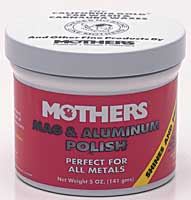 Mag & Aluminum Polish
Mothers secret formula balances a brilliant shine with easy use for aluminum wheels and parts, brass, alloys and accessories. Mag & Aluminum polish is strong enough to put a shine to the most neglected metals and gentle enough to use on a regular basis.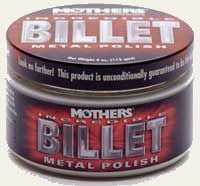 Billet Metal Polish
Mothers Billet Metal Polish brings state-of-the-art cleaners and cutting edge formulation to give billet, forged and finely cast aluminum, brass and other polishable metals the absolute finest finish available - guaranteed.
Chrome Polish
Designed to work exceptionally well on all chrome, Mothers Chrome Polish protects chrome with advanced polymers, resisting smudges and fingerprints and leaving a crisp shine. Use Chrome Polish on wheels, bumpers, mirrors, headlight bezels and chrome accessories. Safe for use on black chrome and works great on glass.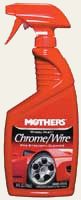 Wheel Mist Chrome/Wire
When chrome is dirty, hazed and oxidized and corrosion is setting in, it's time for the big gun. Wheel Mist Chrome/Wire is the original, powerful one-step that works on chrome wire wheels, chrome bumpers and roughcast aluminum. Spray on and hose off-this is the quickest way to the sharpest shine chrome wheels and bumpers have ever seen. Overheated brake dust, surface rust, ground in dirt and oxidation can't evade this high impact cleaner.

Wheel Mist All Wheel
Automotive rims are manufactured with various finishes, so an effective wheel cleaner must be able to tackle all kinds of dirt on numerous surfaces. You need a universally effective cleaner to take care of every type of grime, grease, brake dust and dirt-enter Wheel Mist All Wheel Cleaner. This spray on, hose off cleaner is formulated to be gentle to clear coated, anodized, polished, color coated, modular and factory treated wheels and hubcaps.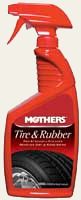 Tire & Rubber
Any dirty or neglected rubber surface can benefit from a good cleaning. Use Tire & Rubber cleaner to remove stubborn dirt, soil and old dressings from the surface of tires. Modern chemistry makes it safe and effective to use on any surface. Clean tires and rubber trim prior to applying Mothers Protectant dressing for that professionally detailed look.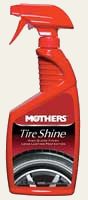 Tire Shine
With Mothers Tire Shine, it's no longer necessary to suffer the tradeoff of durability and protection to keep a show-quality shine. Formulated using an exclusive high-gloss, state-of-the-art surface care technology, Tire Shine provides a long-lasting, sling-resistant protective coating to keep tires glowing long after the show. It helps prevent sidewall brownout, and keeps brake dust and ultraviolet oxidation from hindering the shine of tires.
We're now on Facebook!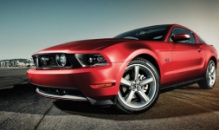 Buy at wholesale price!
Preferred Customers buy at dealer cost and save 25%!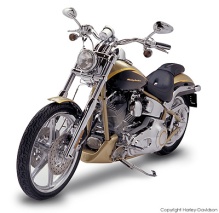 Not sure which products to get for your vehicle? Use the Vehicle Lookup Guide.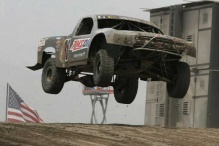 AMSOIL Distributor Opportunities
Start your own home business based on a proven superior product. Very low startup costs.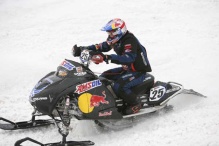 Sell AMSOIL products in your shop or store. Click here for information on AMSOIL retail accounts.

Does your business purchase lubricants for its equipment? Click for information about AMSOIL commercial accounts! Extend your equipment's life and reduce costs!